Current Weather Outlook
Statewide weather outlook from Florida Division of Emergency Management Meteorology
Thursday, August 6, 2020
....Only Isolated Rain Chances Today in the Panhandle with Hot and Humid Conditions...Numerous Thunderstorms in the Peninsula Today- Some Could be Strong...Heat and Humidity Combine to Make it Feel Like 100-107 Degrees this Afternoon...No Tropical Development Expected During the Next 5 Days...
Updated at 8:31 A.M. EDT
Today's Weather: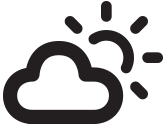 Panhandle & Big Bend:
Some drier air continues to linger across parts of the Panhandle and Big Bend today, which will keep rain chances relatively low (30% or less). Rain chances will be slightly higher in the eastern Big Bend (40-50%), where there will be a bit more moisture. A strong storm or two with gusty winds, frequent lightning, and heavy rainfall cannot be ruled out. Highs will reach the lower to middle 90s, but it will feel like 100-105. Lows will be in the lower to middle 70s.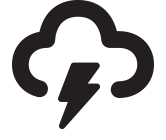 Peninsula & Northeast Florida:
Scattered storms this morning along the Nature Coast this morning will give way to numerous thunderstorms this afternoon across the Peninsula and Northeast Florida. Some strong to briefly severe storms will be possible with gusty winds, frequent lightning, and heavy downpours being the primary hazards. Storms may be slow moving, which could result in some minor street flooding. Most storms will fade after sunset, with only isolated showers and thunderstorms near the coasts during the overnight hours. Waterspouts may be possible with stronger offshore storms. Highs this afternoon will be in the lower to middle 90s, but heat index values will rise to 102-107 across much of the Peninsula and Northeast Florida. Lows overnight will fall into the middle 70s to lower 80s.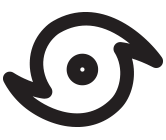 Tropics:
A small area of low pressure between the Bahamas and Bermuda has become less defined, and development is not expected. This system now has a 0% chance of formation. Elsewhere, no other areas are being monitored for tropical development during the next 5 days.
For the latest on the tropics, visit the National Hurricane Center at www.hurricanes.gov.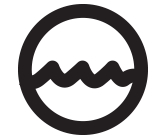 Rip Currents: There is a moderate rip current risk at Atlantic beaches from Martin County to the north, and at Panhandle beaches from Walton to Gulf County. Light winds will result in a low rip current risk elsewhere. For the latest Rip Current Outlook, visit www.weather.gov/beach.
Marine Hazards: Red Tide has not been observed at significant levels.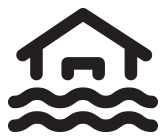 Flash Flooding: Thunderstorms in Southeast Florida this afternoon may produce a quick 1-3" of rain and create some minor street flooding. Otherwise, there is no significant or widespread flash flood threat today.
Hydrology: All rivers and streams are below flood stage. Forecast rainfall today will not significantly impact river levels. Streamflows along the West Coast continue to be below average. For more information on specific rivers, please visit the Southeast River Forecast Center here.
Coastal Flooding: No coastal flooding is expected today.
Lake Okeechobee's average elevation is 13.40 feet, which is 0.44 feet below normal for this time of year. Lake levels will continue to slowly rise due to recent and forecasted rainfall.