Current Weather Outlook
Statewide weather outlook from Florida Division of Emergency Management Meteorology
Tuesday, February 19, 2019
...Well-Above Normal Temperatures Continue Today in the Peninsula...Scattered Showers in North Florida, Isolated Elsewhere...Breezy East Winds Today, Especially in Northeast Florida...Moderate to High Rip Current Risk for Panhandle and Atlantic Beaches...Low Wildfire Threat Statewide...
Updated 11:50 A.M. EST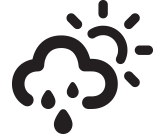 The cold front from yesterday has stalled out along the I-4 corridor this morning. North of the front, skies are partly to mostly cloudy with scattered shows in the Panhandle. Additional showers will develop in Northeast Florida by this afternoon but more clouds than sunshine are expected today. High temperatures will be closer to normal for this time of the year. Well above normal temperatures return for the rest of the week, however.
Across the southern half of the Peninsula, low clouds and patchy dense fog are dissipating. Skies will be mostly sunny today as high temperatures once again reach the lower to middle 80s. There is no chance of rainfall today, but isolated showers will be possible tonight along the coast of Southeast Florida.
Winds will be breezy statewide today (E at 10-15 mph, gusts to 25 mph in North Florida). Light winds continue overnight preventing widespread dense fog from developing. Rain chances continue overnight in North Florida with thunder possible.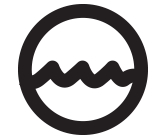 Breezy easterly winds today will result in a moderate to high rip current risk at all Panhandle and Atlantic beaches. Red flags will be flying from Escambia to Walton County in the Panhandle and Nassau to Flagler County in Northeast Florida. At the high risk beaches, wave heights will be 3-5' but only 2-3' elsewhere. All West Coast beaches will have a low risk today. Remember, always swim within sight of a lifeguard. Rip currents can still occur on low risk days! For the latest rip current outlook, visit www.weather.gov/beach.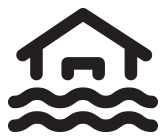 A River Flood Warning remains in effect for the Santa Fe River at Three Rivers Estates. The river is slowly falling, but it will remain in minor flood stage through at least Saturday. The Ocklawaha River at Rodman Dam also remains in minor flood stage. A few rivers throughout North Florida are in action stage today, but are all falling. Rainfall amounts will be light and not result in any flood concerns. With the onshore winds in Northeast Florida, tides are running 1-2' above normal resulting in minor flooding at high tide. For more information on specific rivers, please visit the Southeast River Forecast Center here.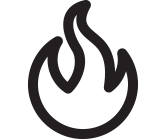 Winds will be breezy today out of the east at 10-15 mph. Some gusts to 25 mph will be possible in North Florida, particularly along the coast of Nassau and Duval County. However, isolated to scattered showers, already high soil moisture, and high relative humidity will limit the threat. Thus, a low wildfire threat is forecast statewide. A County Burn Ban remains in effect for the 5 counties that are in effect year-round.