State Emergency Operations Center
Daily Situation Reports
Flash Reports (when available)
2014 Storm Season
2012 Storm Season
Wildfires
For the most up-to-date information on Florida's wildfires, visit www.floridaforestservice.com/wildfire/information.html.
Deepwater Horizon Response
Visit the State Emergency Deepwater Horizon Response page.
For more information on Florida's Deepwater Horizon response, as well as health and safety tips, visit www.dep.state.fl.us/deepwaterhorizon.

View the Deepwater Horizon Response
Current Situation
View Larger Map
Weather Forecast
Scattered Showers Expected Across The State...Highest Coverage in the afternoon/early evening hours...Some Storms May Be Strong To Severe With Frequent Lightning, Gusty Winds, And Heavy Downpours...Moderate Risk for Rip Currents at Panhandle and Atlantic Coast Beaches...Tropics Remain Active with Several Areas to Monitor...
Updated 9:45 AM EDT Friday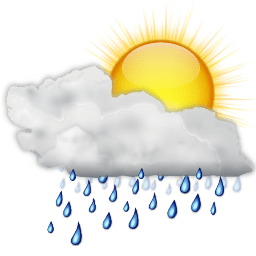 After several days of mostly dry weather, rain chances will dramatically increase during the holiday weekend. A south to southeast wind flow will develop today and persist for the next few days between high pressure over the western Atlantic and a cold front in the Central Plains which will allow deep tropical moisture to spread northward into the region.
Scattered showers and storms will increase in coverage along the coastal waters this morning and will move inland through the late morning and afternoon. Scattered to numerous afternoon showers and storms are expected later in the afternoon into the early evening as daytime heating increases and the East Coast seabreeze collides with the Gulf Coast seabreeze. This will place the highest rain chances over interior and western areas of the Peninsula and south of I-10 in the Panhandle.
Only isolated severe storms are possible, but a few strong storms this afternoon could produce gusty winds and frequent lightning. However, heavy rainfall will be the main threat.
Most of the rain activity should decrease after sunset and end by midnight, but a chance of showers and isolated storms will remain possible across the western Panhandle overnight as a low pressure disturbance is forecast to move into Louisiana and move northeastward.
Lingering ocean swells and onshore winds will continue a moderate risk of rip currents at all Atlantic Coast beaches today. A moderate risk of rip currents is also expected along the Panhandle coast between Walton and Franklin counties, with a general low risk of rip currents for the remainder of the Gulf Coast. However, rip currents may still form near piers and jetties and also during outgoing tidal cycles on low risk days. Thus residents are encouraged to always check beach flags before entering the water. For more information about rip current safety, click here.
At 5 AM EDT, the center of Hurricane Cristobal was located about 325 miles south-southeast of Cape Race Newfoundland and was racing towards the northeast near 49 mph. This general motion, with a decrease in forward velocity, is expected over the next couple of days. The storm has maximum sustained winds near 80 mph, with higher wind gusts. Cristobal is expected to lose its tropical characteristics later today, but should remain a powerful extra-tropical cyclone over the North Atlantic through Sunday. A disturbance located over the central Caribbean continues to produce disorganized cloudiness and thunderstorms. Upper-level winds are expected to remain unfavorable for development over the next day or so while the system moves across the central Caribbean. However, environmental conditions cold become more conducive for a little bit of development when the system moves over the northwestern Caribbean on Saturday night or Sunday and into the southwestern Gulf of Mexico Sunday night or Monday. Therefore, the National Hurricane Center has given this disturbance a 0% chance of tropical cyclone formation in the next 48 hours and a 20% chance in the next 5 days. A tropical wave near the west coast of Africa is producing minimal shower activity. Environmental conditions are expected to remain unfavorable for development of this system as it moves westward at 15 mph across the Eastern and Central Atlantic. Thus, the NHC given the system a 10% chance of development in the next 5 days. For the latest information, click here.

National Weather Service
Maps