State Emergency Operations Center
Situation Reports
5 Day Statewide Weather Outlook
2016 Storm Season
2014 Storm Season
2012 Storm Season
Wildfires
For the most up-to-date information on Florida's wildfires, visit www.floridaforestservice.com/wildfire/information.html.
Deepwater Horizon Response
Visit the State Emergency Deepwater Horizon Response page.
For more information on Florida's Deepwater Horizon response, as well as health and safety tips, visit www.dep.state.fl.us/deepwaterhorizon.

View the Deepwater Horizon Response
Current Situation
View Larger Map
Weather Forecast
...Isolated to Scattered Showers and Storms for Most of Florida Today...Flash Flood Watch in Effect Through Late Tonight for Escambia and Santa Rosa Counties...High Rip Current Risk for Western Panhandle Beaches...Moderate Risk for Rip Currents for Other Panhandle and All East Coast Beaches...No New Tropical Cyclone Activity Expected For Next Five Days...
Updated 9:50 A.M. EDT Saturday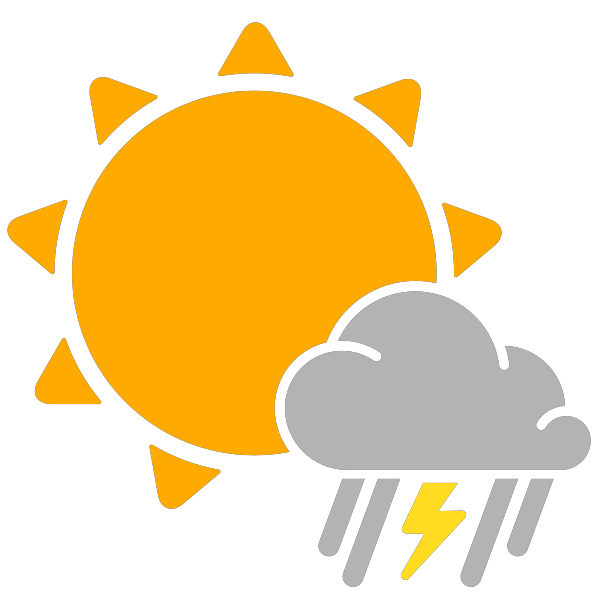 An approaching cold front and the various sea breezes will each provide a trigger for shower and thunderstorm development in Florida today. The cold front is expected to slowly push south toward North Florida, leading to scattered showers and thunderstorms as far east as the Big Bend. There is plentiful moisture ahead of the front, and some storms in the Panhandle may contain heavy downpours as a result. With recent rainfall associated with Tropical Storm Cindy leaving grounds saturated, a Flash Flood Watch is in effect for Escambia and Santa Rosa counties through late tonight as an additional 2 to 3 inches of rainfall is possible today and could lead to isolated flash flooding, particularly of low-lying or flood-prone areas. In the Peninsula, isolated to scattered afternoon and evening showers and storms are expected this afternoon and evening as the sea breezes push inland and daytime heating is at maximum. Highs today will range from the mid 80s to lower 90s with interior portions of the Peninsula expected to see the warmest temperatures. Heat index values around 100 degrees are expected this afternoon in parts of the Peninsula. Rain chances are expected to diminish overnight throughout the state, but isolated showers and storms may linger into the late evening hours, and even into the early morning hours in the Panhandle. Patchy fog may develop in parts of North Florida early Sunday morning. Lows tonight will be in the mid 70s in North and Central Florida and in the upper 70s to near 80 in South Florida.
A high risk for rip currents is forecast for Panhandle beaches in Escambia, Santa Rosa, and Okaloosa counties due to southwesterly winds around 10 mph and wave heights up to 3 feet. A moderate risk for rip currents is forecast for all East Coast beaches due to an east swell and for all other Panhandle beaches. A low risk for rip currents is forecast for all other Gulf beaches.
There are a couple tropical waves in the Atlantic basin, including an impressive-looking one coming off of Africa today, but tropical cyclone development is not expected over the next five days. For more information on the tropics, please visit the National Hurricane Center website at hurricanes.gov.
There is no fire threat in Florida today as soils remain wet and relative humidity remains high. As a reminder, fire season is not yet over. Only one county which does not have a year-round burn ban, Charlotte, continues to have a burn ban in place.

National Weather Service
Maps