State Emergency Operations Center
Daily Situation Reports
Flash Reports (when available)
2014 Storm Season
2012 Storm Season
Wildfires
For the most up-to-date information on Florida's wildfires, visit www.floridaforestservice.com/wildfire/information.html.
Deepwater Horizon Response
Visit the State Emergency Deepwater Horizon Response page.
For more information on Florida's Deepwater Horizon response, as well as health and safety tips, visit www.dep.state.fl.us/deepwaterhorizon.

View the Deepwater Horizon Response
Current Situation
View Larger Map
Weather Forecast
...Sunny And Dry Day for Most...Weather Disturbance brings Risk for Severe Weather this afternoon for portions of North Florida...Lightning, hail, and gusty straight line winds will be the main concerns...Conditions Improve for North Florida tonight...Patchy Fog Forecast in North Florida tonight...Moderate Risk Of Rip Currents At Most Of The Panhandle Beaches...
Updated 9:45 am EDT Tuesday March 31
In North Florida: Dense fog advisories are in effect for most of North Florida this morning. The fog is forecast to lift by 10 am leaving partly to mostly sunny skies across North Florida. This afternoon, a weather disturbance passing through Georgia and Alabama will create scattered showers and thunderstorms across North Florida, mainly along and north of the I-10 corridor where a 20% to 30% chance for rain is forecast. A lack of atmospheric moisture will limit the coverage of storms today, but a marginal risk for severe weather is in place across Northeast Florida, the Suwannee Valley, and portions of the Eastern Panhandle as the storms that do develop could reach severe levels. The main threat associated with thunderstorms today will be lightning, gusty straight line winds, and hail.
Showers and storms across North Florida are forecast to come to an end shortly after sunset leaving partly cloudy conditions behind. Patchy fog is forecast to form overnight with the potential for dense fog to form in isolated rural inland locations. Drivers are urged to use caution during their early morning commute as rapid changes in visibility could occur.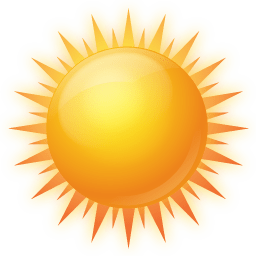 In Central and South Florida: Sunny skies are forecast as high pressure remains in place. A few showers and storms may form along the seabreeze across inland portions of Central Florida and push eastward early in the evening. For this reason there is a 10% to 20% chance for rain from Brevard and Osceola Counties northward. Any showers and thunderstorms that do develop will come to an end shortly after sunset. Overnight, mostly clear conditions are forecast.
Temperatures: A mix of sun and clouds across the state will allow for temperatures to rise into the upper 70s to low 80s statewide. Overnight, warmer and more humid conditions will keep temperatures in the low to mid 60s.
Onshore winds during the afternoon hours will increase winds and wave heights along the Panhandle coast and increase the rip current risk from Escambia to Franklin County to a moderate risk. Along the east-central Florida coast onshore winds and wave heights in the 2 to 3 foot range will create a moderate risk of rip currents from Volusia to Martin County. A general low risk of rip currents is forecast elsewhere across the state. Beach goers are urged to check with local beach rescue for the latest surf conditions and not to enter the surf above your knees. Always Heed the advice of ocean rescue personnel and swim within sight of a lifeguard. For more information on rip currents click here.

National Weather Service
Maps