State Emergency Operations Center
Daily Situation Reports
Flash Reports (when available)
2014 Storm Season
2012 Storm Season
Wildfires
For the most up-to-date information on Florida's wildfires, visit www.floridaforestservice.com/wildfire/information.html.
Deepwater Horizon Response
Visit the State Emergency Deepwater Horizon Response page.
For more information on Florida's Deepwater Horizon response, as well as health and safety tips, visit www.dep.state.fl.us/deepwaterhorizon.

View the Deepwater Horizon Response
Current Situation
View Larger Map
Weather Forecast
...Strong To Severe Storms Today In North Florida...Storms Will Be Capable Of Producing Frequent Lightning, Damaging Winds, Hail, and Isolated Tornadoes...Tornado Watch In Effect Until 12 PM CDT/ 1 PM EDT For Portions Of The Panhandle...Partly To Mostly Sunny Skies With Isolated To Scattered Afternoon Showers And Storms Across Central And South Florida...Moderate Risk Of Rip Currents At Some Panhandle And Atlantic Beaches...River Flood Warnings Continue For Portions Of The Panhandle...
Updated 8:15 am EDT Saturday April 25
A warm front will lift northward this morning into Georgia, resulting in a west-southwesterly surface wind flow across the state, which will advect a very warm and moist airmass. Shower and thunderstorm activity is expected to be high across the Panhandle due to several upper level disturbances pushing east across the area ahead of an approaching cold front. Showers and thunderstorms will start during the early morning hours across the Western Panhandle and then spread east across the remainder of the Panhandle by the late morning hours. In Northeast Florida, the Gulf Coast seabreeze will likely be the trigger for afternoon showers and storms, however, stronger thunderstorms will likely develop when the Gulf Coast seabreeze encounters the pinned Atlantic sea breeze during the late afternoon to early evening hours. Environmental conditions in North Florida will favor thunderstorm development during the day on Saturday, some of which could be severe. As a result, the Storm Prediction Center has placed areas in North Florida north of I-10 under a slight risk and areas in North Florida south of I-10 under a marginal risk on their Severe Thunderstorm Outlook. Frequent lightning, damaging winds, and hail appear to be the main threats, although an isolated tornado or two cannot be ruled out. There is currently a Tornado Watch in effect until 12 PM CDT/ 1 PM EDT for the following Florida Counties: Bay, Jackson, Walton, Escambia, Okaloosa, Washington, Homes, and Santa Rosa. Other areas in North Florida currently not included in this list of counties should still closely monitor weather conditions throughout the day because the threat for severe weather is present.
In Central and South Florida high pressure will be in control of the weather pattern resulting in partly to mostly sunny skies with afternoon seabreeze showers and storms, primarily confined to the interior and western half of the Peninsula. No severe weather is anticipated in these areas; however, stronger storm will have the potential to produce frequent lightning, gusty winds, and heavy downpours.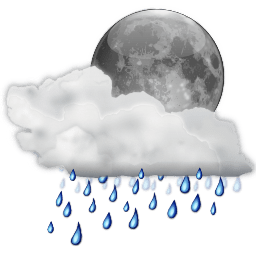 Saturday night, showers and storms that develop across the state will start to diminish after sunset. A few showers are possible along North Florida during the overnight hours as the cold frontal boundary continues to approach the state. In addition, a warm and muggy airmass will allow patchy fog to develop across the state during the overnight hours. Residents in these areas should use caution during their early morning commutes as rapid changes in visibility could occur.
There will be a moderate risk of rip currents at Panhandle beaches from Escambia to Franklin County, at West Coast beaches from Hillsborough to Lee County, and at Atlantic beaches from Nassau to Martin County. The remainder of the Florida beaches will have a low risk of rip currents. Beach goers are urged to check with local beach rescue for the latest surf conditions and not to enter the surf above your knees. Always Heed the advice of ocean rescue personnel and swim within sight of a lifeguard. For more information on rip currents click here.

National Weather Service
Maps