MORE THAN ONE MILLION FLORIDIANS HAVE SUCCESSFULLY REGISTERED FOR FEMA INDIVIDUAL ASSISTANCE
TALLAHASSEE, Fla. – Florida homeowners and renters have been registering for FEMA Individual Assistance (IA) in historic numbers. More than one million residents in the 48 counties designated for Individual Assistance have utilized the FEMA Disaster Assistance hotline, FEMA App and Disaster Assistance website to register for Federal disaster assistance. These diverse approaches to registration have allowed Floridians to quickly access the resources available to them without having to physically visit FEMA Disaster Recovery Centers across the state.
Floridians in each IA declared county have successfully registered for assistance, with some counties seeing record numbers of registrants. As of September 21, the following counties have seen more than 50,000 successful registrations:
| | | | | | |
| --- | --- | --- | --- | --- | --- |
| Miami-Dade: | 203,832 | Broward: | 113,890 | Orange: | 65,694 |
| Lee: | 65,662 | Pinellas: | 60,132 | Palm Beach: | 55,248 |
| Hillsborough: | 52,630 | Polk: | 52,285 | Duval: | 50,932 |
| | | | | | |
Since September 11, 2017 the number of individuals registering daily is steadily increasing: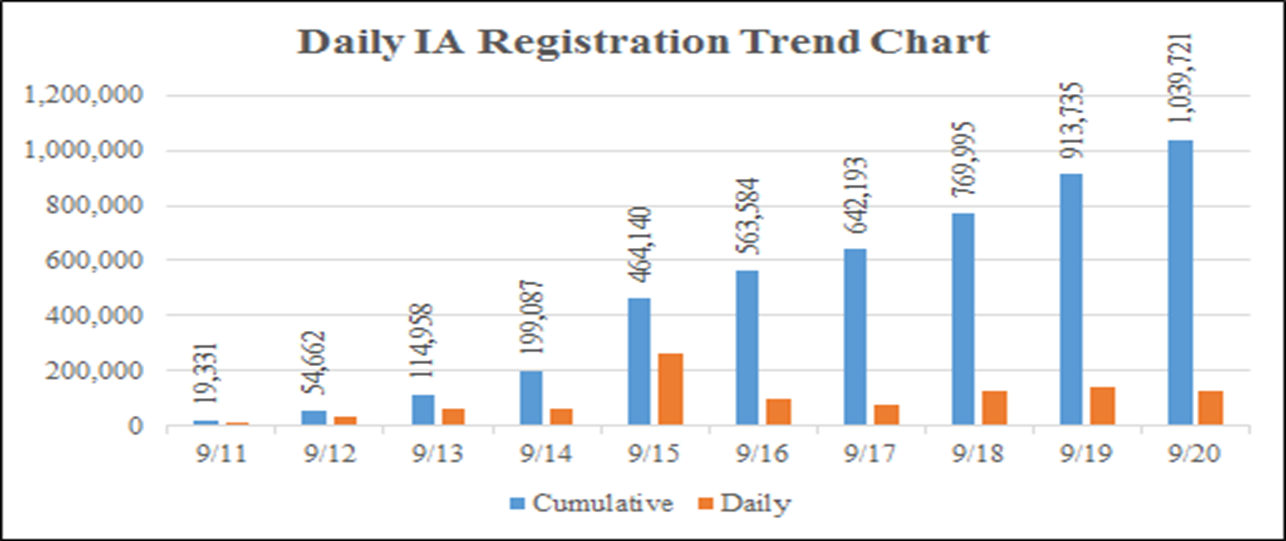 As evidenced above, the days immediately following the storm's impact saw fewer than 50,000 daily registrations. Subsequently, daily registrations peaked at more than 265,000, with an overall positive trend continuing over a week after the storm had passed through the state. Additionally, more than $336,000,000 in Federal funds have already been approved to help individuals recover. With further funding expected, Floridians will have the resources they need to successfully recover from Hurricane Irma's impact.
Individuals can register online at www.DisasterAssistance.gov or through the FEMA App (available for Android, iOS and Blackberry devices).
Applicants will need the following to apply:
Social Security Number;
Daytime telephone number;
Current mailing address;
Address and zip code of the damaged property; and
Private insurance information, if available.
By registering for federal assistance on www.DisasterAssistance.gov, you can:
Find out if your address is in a disaster area declared for Individual Assistance.
Check the status of your application and get updates by SMS or email.
Upload documents to support your application.
Another option for individuals, including those who use 711 relay or VRS, is to call 1-800-621-FEMA (3362) while those who use TTY can call 1-800-462-7585. The toll-free telephone numbers will operate from 7 a.m. to 11 p.m. EDT seven days a week until further notice.
When an applicant registers, they receive a unique registration number. The registration number is important and should be written down and kept handy. Anyone who does not have a registration number is not yet registered.
For more information on resources available to those affected by Hurricane Irma, please visit: www.FloridaDisaster.org/info. Follow us on Twitter at www.Twitter.com/flsert and on Facebook at www.Facebook.com/FloridaSERT.
Updated: Wednesday, November 8, 2017