Current Weather Outlook
Statewide weather outlook from Florida Division of Emergency Management Meteorology
Wednesday, September 18, 2019
...One More Day of Near Record Heat in the Panhandle...Cold Front Brings Scattered Thunderstorms Today...Dangerous Rip Currents Continue at Atlantic Beaches...Minor Flooding Along the St. Johns River Today...Tropics Are Active, But No Immediate Threat to Florida...
Updated at 9:01 A.M. EDT
Major Hurricane Humberto is a large Category 3 hurricane with maximum sustained winds of 115 mph. Humberto will pass very near to Bermuda tonight. While there will be no direct impacts to Florida, rough surf and dangerous rip currents will continue at Atlantic beaches for the next few days.
Tropical Depression Imelda will drift inland over eastern Texas over the next few days. Maximum sustained winds are 30 mph. This system will bring heavy rainfall to Texas and Louisiana over the next couple of days. This system will have no impact to Florida.
Tropical Storm Jerry continues to organize about 950 miles east of the Lesser Antilles. Jerry will continue to the west-northwest over the next 3 days passing just north of Puerto Rico as a hurricane. Early next week, a turn towards the north is expected. This system does not pose a threat to Florida at this time but it should continue to be monitored.
(1) A tropical wave located several hundred miles west of the Cabo Verde Islands is producing disorganized cloudiness and showers. Some development of this system is possible over the weekend while the system approaches the Windward Islands or across the southeastern Caribbean Sea early next week. This system has a near 0% (low) chance of formation over the next 48 hours but a 30% (low) chance from days 3-5.
(2)A tropical wave is forecast to move off of the west coast of Africa on Thursday. Development, if any, is expected to be slow to occur through early next week. This system has a near 0% (low) chance of development over the next 48 hours and a 10% (low) chance from days 3-5.
For more information regarding the tropics please visit www.hurricanes.gov.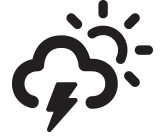 Relief from the hot and dry conditions of the last week is on the way. A cold front will move through the state over the next 24 hours bringing cooler temperatures and scattered thunderstorms. There is no significant severe weather or flash flood threat today. Frequent lightning, heavy rainfall, and gusty winds could still accompany the strongest thunderstorms, however.
The cold front will arrive first in Northeast Florida later this morning with scattered showers and thunderstorms. The earlier rain chances will keep temperatures only in the upper 80s to lower 90s. Thunderstorms will then move into the Big Bend and the eastern Panhandle this afternoon. Until then, sunny skies will still push temperatures to near record levels. High temperatures across inland areas will be in the upper 90s to near 100 degrees. Central & South Florida will see thunderstorms this afternoon as well, particularly along the I-75 corridor. Behind the front, winds will be breezy out of the northeast.
A River Flood Warning continues for the St. Johns River at Astor which is currently in minor flood stage and will remain there throughout the week. Minor flooding may occur at high tide today along the tidal St. Johns river and nearby tributaries. A Coastal Flood Statement is in effect today for Duval, Clay, Flagler, Putnam, and St. Johns County as tides are running 1-1.5' above normal. In contrast, several river gauges are in low water stage in North Florida. For more information on specific rivers, please visit the Southeast River Forecast Center here.
Breezy north to northeast winds at 10-20 mph and swells from Humberto will result in a high risk of rip currents for all Atlantic beaches. A moderate risk is expected in the Panhandle from Walton to Franklin County. All West Coast beaches will have a low risk. Wave heights will be 4-8' at Atlantic beaches and 1-2' in the Gulf. A high surf advisory is in effect for Palm Beach County.
Remember, always swim within sight of a lifeguard. Never swim alone. If caught in a rip current, swim parrallel to shore to Break the Grip of the Rip! Rip currents can still occur on low risk days! For the latest Rip Current Outlook, visit www.weather.gov/beach.