DEM Announces $100 Million Reimbursed for Irma Public Assistance
The Florida Division of Emergency Management (DEM) announced today that more than $100,000,000.00 in federal Public Assistance (PA) money has been reimbursed for projects related to Hurricane Irma. The PA program funds the debris removal, emergency protective measures, repair, restoration, reconstruction or replacement of a facility or infrastructure that is damaged or destroyed by disaster.
Director Wes Maul said, "This milestone highlights my commitment to processing Public Assistance funds with accountability, transparency and accuracy as soon as they are obligated by FEMA, while ensuring that Florida's communities successfully recover from major disasters as quickly and with as much financial certainty as possible."
At Director Maul's direction, DEM implemented new procedures that include streamlined guidelines and faster response times to better assist communities in navigating the complex federal reimbursement system. At the same time, the new procedures ensure nationally unmatched accuracy in the formulation of projects to safeguard against the future deobligation of funds.
In 2018 alone, the Division has processed more public assistance payments for all storms than in the years 2012-2017 combined, and more than the yearly average over the last decade.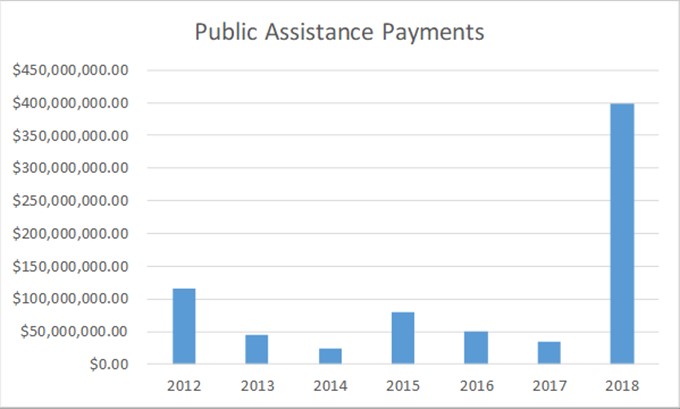 In addition to repair and restoration, the PA program also encourages protection of damaged facilities and infrastructure from future events by providing assistance for hazard mitigation measures during the recovery process.
For additional updates, follow us on Facebook at www.Facebook.com/FloridaSERT and on Twitter at www.Twitter.com/FLSERT.

Updated: Friday, September 21, 2018