The Florida Division of Emergency Management Commemorates the 5-Year Anniversary of Hurricane Michael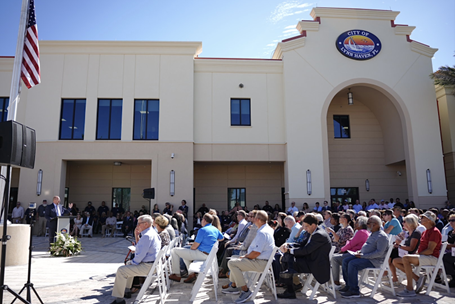 Lynn Haven, FL. – Today, the Florida Division of Emergency Management (Division) Executive Director Kevin Guthrie spoke at the ribbon cutting ceremony for the new City Hall and Emergency Operations Center (EOC) to mark the 5-year anniversary of Hurricane Michael.
"For those of us that work in emergency management, in human services, or even as public servants, there are certain events or milestones that we witness or go through ourselves, that stand out and remind us of why we serve the communities of Florida," said Division Executive Director Kevin Guthrie. "Hurricane Michael was that event and 5-years post landfall the Division and state is committed in continuing to assist impacted communities recover and build a more resilient Florida."
The Division has supported short-term and long-term recovery efforts for Michael including the rebuilding of critical public infrastructure such as the Historic Lynn Haven City Hall. To date, over $2.4 billion in obligated Public Assistance funding has been obligated to communities in response to the devastating impacts of Hurricane Michael. This is in addition to over $417 billion in Hazard Mitigation Grant Program funding to support communities in implementing long-term hazard mitigation measures.
Hurricane Michael was a very powerful and destructive Category 5 Atlantic hurricane that struck Florida in October 2018. It became the first Category 5 hurricane to make landfall in the contiguous United States since Andrew in 1992. Michael caused some of the most severe damage the state had seen in over two decades, which has resulted in $18.4 billion in damage in Florida, primarily incurred by property and infrastructure.
Long term recovery efforts are still ongoing in impacted communities. For more information on hurricane preparedness visit FloridaDisaster.org.
Follow the Division @FLSERT on X (Formerly known as Twitter), Instagram and Facebook for updates.
###

Updated: Tuesday, October 10, 2023