Centralized Alert System Created to Provide Updates and Access Resources for Surfside Collapse Families
~Families and individuals who have been displaced can register at SurfsideReunite.com~
A centralized alert system has been created by the state of Florida, Miami-Dade County and the town of Surfside to provide updates and access to resources for families and individuals who have been displaced.
Individuals can register for alerts by visiting www.SurfsideReunite.com or by calling the toll-free number (833) 930-3701. Agents are available in English and Spanish and will contact individuals who have registered with the alert system.
This morning, Governor Ron DeSantis was joined by FEMA Administrator Deanne Criswell, Miami-Dade Mayor Daniella Levine Cava, Surfside Mayor Charles Burkett, Lieutenant Governor Jeanette Nuñez and FDEM Director Kevin Guthrie to provide updates on the Surfside Building Collapse response. Please see full remarks regarding the current response from this morning's press conference here.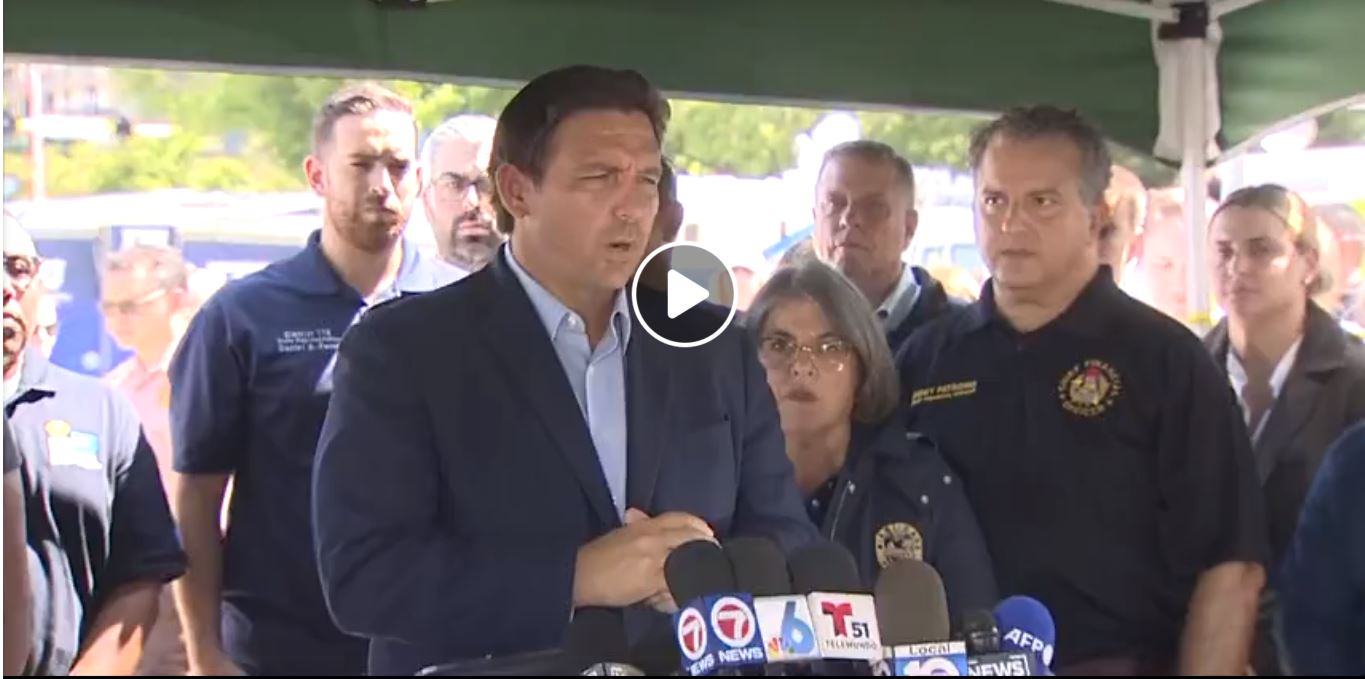 State response efforts include:
FDEM Director Guthrie welcomed the Israeli Homefront Command Team at the Miami International Airport. The team is being deployed to support the Surfside Building Collapse response and recovery efforts.
FDEM Director Guthrie requested an Administrative Declaration for Miami-Dade County from the Small Business Administration (SBA) to provide disaster loans to individuals and businesses impacted by the Surfside Building Collapse.
FDEM is assisting Miami-Dade County with establishing a call center and facilitating public notification capabilities for the Family Assistance Center.
FDEM is activating an existing contract to assist with time-tracking and meal-tracking for individuals responding to the collapse.
FDEM coordinated with Escambia County to deploy an additional mobile command vehicle.
FDEM is deploying an Incident Management Team to support local response efforts.
FDEM is deploying a mobile laundry facility to the site of the collapse to support first responders.
All eight Florida Urban Search and Rescue task forces have been activated to assist local responders with rescue and recovery efforts. Urban Search and Rescue Task Force 1 (South Florida), 2 (South Florida), 3 (West Central Florida), 4 (Central Florida) and 6 (Southwest Florida) are on-scene. Urban Search and Rescue Task Force 5 (Northeast Florida), 7 (North Florida) and 8 (North Central Florida) are en route to the scene.
The state has ordered additional machinery to support search and rescue efforts including cranes, excavators and nibblers.
The Florida Department of Transportation (FDOT) has identified an alternate site to assist with the clearance of debris.
FDOT is deploying additional excavators, dump trucks and front end loaders to the collapse site to support rescue and recovery efforts.
The Florida Department of Highway Safety and Motor Vehicles is providing traffic control in the Surfside area for the safety of residents.
The Florida Department of Health (FDOH) is coordinating with the Miami Poison Control Center to review on-scene personal protective equipment and identify and respond to potential public health hazards.
FDOH is activating the Florida Crisis Consortium to provide behavioral health care for impacted individuals at the Family Reunification Center.
The Florida Department of Economic Opportunity has a mobile unit on scene with deployed personnel who are assisting individuals with completing housing assistance applications and coordinating available business resources.
Hatzalah of South Florida is working with local pharmacies to ensure that residents impacted by the Surfside Building Collapse have access to critical daily medications.
Volunteer Florida is coordinating with local nonprofit organizations to establish a multi-agency donations warehouse.
Currently, local organizations are specifically requesting cash donations to support immediate needs and be donated through SupportSurfside.org. Additionally, the Florida Disaster Fund has a "Surfside Collapse" option at VolunteerFlorida.org/DonateFDF for longer term support.
Previous state response efforts for the Surfside Building Collapse are available for:
Individuals with information about loved ones who are unaccounted for, or are safe, are encouraged to call the reunification hotline at 305-614-1819.
Impacted individuals are also encouraged to contact the following helpline services for immediate emotional support:
Disaster Distress Helpline – 800-985-5990
Florida 211 Network – 211
Crisis Text Line – Text HELLO to 741741
State personnel remain on scene and will continue to provide assistance, as requested.

Updated: Monday, June 28, 2021