All-Hazards Incident Management Teams
Mission
The All-Hazards Incident Management Team (AHIMT) serves as the forward coordinating element for the State Emergency Response Team (SERT) and the State Coordinating Officer (SCO).
AHIMTs do not typically assume operational control of an incident; however, they provide situational awareness and operational planning to the SERT and the SCO by incorporating information collected from the State Emergency Operations Center (SEOC), County EOCs, local agencies. The AHIMT will assist in the coordination of necessary logistical support to the SCO and SERT for forward deployment.
Furthermore, the AHIMT, in coordination with SERT Liaisons, may be tasked to assist the State Emergency Response Team Chief with other missions as assigned by the SEOC. Missions that could be assigned to an AHIMT include EOC Augmentation, Base Camp Management, Recovery Operations, etc.
Map of All-Hazards Incident Management Teams Locations
The following map shows the locations of the six (6) AHIMTs throughout Florida. Click on image for larger map.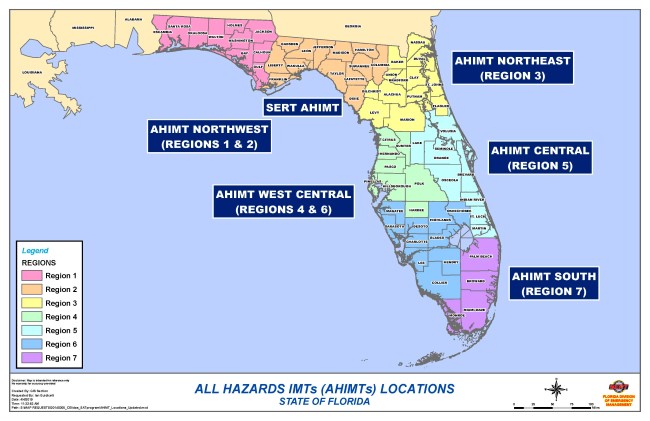 Contact Information and Links
For questions concerning the All-Hazards Incident Management Team Program please contact:
Vacant - Chief of Response
Ian-Paul Gadea Guidicelli – Deputy Chief of Response, Acting Bureau Chief
Taylor Cheney – All-Hazards Incident Management Team Planner
Team Authority and References
This procedure is compliant with Chapter 252 of the Florida Statutes. It will be used in concert with current SERT Operational Procedures. The Operations Section and Field Operations Guide link this plan to the authority of the SERT Chief during an activation of the SERT. The CEMP defines how the SERT Chiefs authority is derived from the State Coordinating Officer (SCO) and the Governor of the State of Florida. The AHIMT reports to the Operations Section Chief unless otherwise determined by the SERT Chief or the SCO
Links
For more information regarding AHIMTs click on the following links: