State Emergency Response Team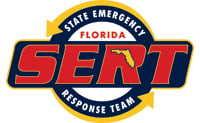 The Florida Division of Emergency Management is at Level 2

The State Emergency Response Team is tasked with providing disaster assistance to the residents of the state of Florida. The SERT is comprised of branches and Emergency Support Functions (ESF). These entities work closely with one another to fulfill mission task and request for direct aid to disaster impact areas.
Emergency Support Functions (ESF)